Surgis de nulle part au beau milieu des années punk, les Cramps ont enfanté un barouf qui vous glaçait le sang. Qui a pris forme entre les murs suintants du fameux CBGB ou sur la scène du plus coquet Max's Kansas City. Nourris au rockabilly, au sixties garage, à Link Wray et aux séries B sanguinolentes, ils sont les seuls vrais parents du psychobilly. Les seuls, aussi, dès leur premier album, à avoir fait du Rock'n'Roll une musique sacrée. Qu'en plus de trente ans de carrière, ils n'ont jamais trahie. Passant de New York à Los Angeles pour glisser de la Hammer et de Herschell Gordon Lewis jusqu'à Russ Meyer et Paris-Hollywood. Offrant au monde libre le binaire le plus dévergondé depuis la retraite de Mae West. Longtemps galerie de personnages improbables, les Cramps sont désormais recentrés sur Lux et Ivy, couple indestructible, à la scène comme à la ville, et qui a fait de la culture trash un art à part entière. Uniques et comme éternels. Parfaite incarnation de ce que le Rock'n'Roll n'aurait jamais dû cesser d'être. Du sexe et des frissons !
320 pages, 15 x 21 cm, couverture couleur, intérieur noir et blanc incluant 11 illustrations de Jacques Olivier Leroy, plus 18 pages de photos inédites couleur et noir et blanc.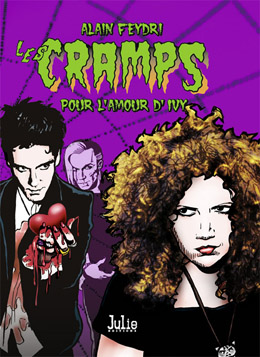 EPUISE CHEZ L'EDITEUR
Coming out from nowhere in the middle of punk years, the Cramps gave birth to a real blood icing noise. Who take shape in between the dirty walls of infamous CBGB or on the scene of the well more established Max's Kansas City. Fed on rockabilly, sixties garage, Link Wray and bloody B. movies, they're the only real parents of psychobilly. The only ones, too, since their first album, to have treated Rock'n'Roll like a sacred music. Something they've never betrayed in more than thirty years. Leaving New York for Los Angeles and slidin' from Hammer and Herschell Gordon Lewis to Russ Meyer and Paris-Hollywood. Giving the free world the more shameless beat since Mae West retreat. Long a gallery of astounding partners, the Cramps from now on are mainly Lux and Ivy business, indestructible union, in both in and out stage, leading some people to reconsider trash culture as another form of art. Sole and almost immortals. Flawless incarnation of what Rock'n'Roll should never have ceased to be. Sex and cheap thrills !
320 pages, 15 x 21 cm, colour cover, black and white interior including 11 original draws. Also 18 pages with previously unpublished pictures in black and white and colour.